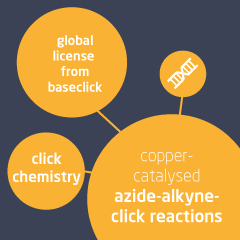 License for click chemistry
biomers.net has acquired an extensive global license from baseclick to perform azide-alkyne click reactions on nucleic acids. This license includes the synthesis of modified oligos by copper-catalysed click chemistry, as well as the allocation of clickable oligos, followed by realisation of click reactions for research purposes only. In particular, the technology protected by baseclick for internal click modification of nucleic acids on heterocyclic bases (via 5-alkyne pyrimidines) is also included in the agreement. biomers.net offers now the entire portfolio of click-modified oligos worldwide.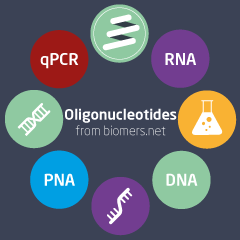 YOUR TRUSTED PARTNER FOR OLIGONUCLEOTIDES:
FAST, COMPETENT, AND RELIABLE!
Take advantage of state-of-the-art synthesis technology:
Oligonucleotides with all popular modifications at reasonable prices and with a reliable quality. Oligos for PCR, short, unmodified and quickly delivered are offered as well as high quality RNA oligos, probes for qPCR and FISH or reliable cloning oligos of (nearly) any length.
Talking about oligonucleotides:
talk to biomers.net!
Oligos with SNAP and CLIP tag protein ligands
Benzylguanine and Benzylcytosine-labelled oligonucleotides as substrate for the protein tags SNAP and CLIP tag.
Both protein tags allow the visualisation of complex, cellular processes:
- protein-protein interactions
- protein localisation
- protein function analyses
[Read more]
Copper-free click chemistry via Tetrazine-TCO ligation
- higher reactivity compared to the copper-free SPAAC
- in vitro and in vivo studies possible
- in vivo labelling of cellular DNA and proteins
- Multiplex labelling
biomers.net offers oligonucleotides with tetrazine and TCO modifications at 5´-/3´-end.
[Read more]
RNA oligos up to 120 bases
Now you have the possibility to order RNA oligonucleotides up to a length of 120 bases!

- extra-long synthetic RNA oligonucleotides are used for a variety of applications (e.g. CRISPR)
- purification by polyacrylamide gel electrophoresis (PAGE) is already included
- 1 OD delivery amount is guaranteed
Oligos for smFISH
single molecule fluorescence in situ hybridisation (smFISH)
for detection of single RNA molecules in fixed cells using short, single labelled oligonucleotide probes (pools)
- OligoPools with 12, 24, 36, 48 or 96 probes
- several modifications available (Fam, Cyanine, Atto and Dyomic dyes, HRP, Biotin)

[Read more]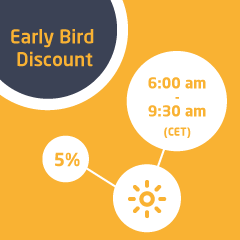 Early Bird Discount
Between 6:00 and 9:30 am you'll get a special discount of 5 % on all your orders!
Literature Highlights
Protocols, interesting literature and further information around the topic of oligonucleotides.

- Smart-Seq for transkriptome analysis (Picelli et al., 2014)
- Mediator Probe PCR (Faltin et al., 2012)
- MiL-FISH: Multi-labelled oligonucleotides (Schimak et al., 2015)